CMU art class immortalizes Beaver Island
For the past thirteen Augusts Beaver Island's scenic places have attracted dedicated and buoyant art students doing their best to take advantage of the plentiful inspiration. Although the art offerings have included ceramics, photography, metalsmithing, jewelry, and, this year, sculptural papermaking, it is the painters hovered behind their easels and squinting through small cardboard rectangles at a scenic view that most tourists remember.
On Friday, August 16, this year's sixteen students held the art show at CMU that marks the end of their intense two-week session. (Next year's will be on August 15th– mark it down now!) The perimeter of the Biological Station's large central lounge was draped with paintings, while the perhaps more daring made-paper sculptures were laid out in the adjacent dining room as seventy-five visitors milled around, oohing and aahing and dropping comments that the artists, who either mingled with the audience or hovered on the edge of an array of couches and chairs in the center, greedily gathered in.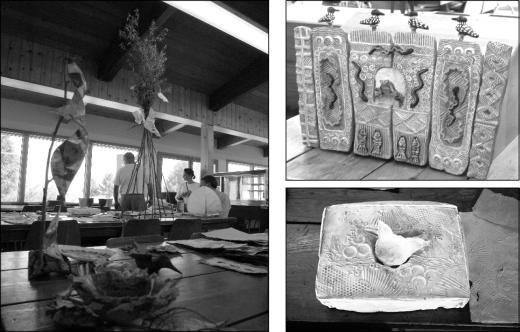 When asked, every one of them praised the program. The teachers, they said, are world-class artists in their own right, at the very top of their field. Beaver Island, they agreed, was a perfect place in which to find subjects for their work–even the papermakers incorporated feathers and twigs, and sand and shells from the beach. The isolation from normal distractions allowed them to immerse themselves in their work to a greater than previous extent. "For the first time," one of them remarked, "I felt like a real artist. It was a wonderful feeling."
"It was as if we were out here on an expedition," another commented. "To find our inner wellspring. Dr. Swanstrom was affected by the setting, too, and gave us more leeway. As long as he felt we were following a legitimate lead, he didn't try to reign us in. He was more like a discreet guide, unobtrusively dropping hints to help us stay on whatever path we were following. We knew we were free to experiment, to try new techniques and materials." A side-effect of this attitude was that everyone felt a great sense of camaraderie. Several of them stated that this would probably turn out, in retrospect, to be a defining moment in their lives.
Nothing was marked with a price, but interested potential purchasers were free to negotiate with the willing artists. Doug Chambers, a teacher who won Best In Show, said that the whole experience of the show was "validating. This was an extremely productive two weeks," he added. "Counting what I've done before, I now have 60 completed paintings, 35 of which are framed. When I get back I'll frame the rest, and then some galleries are going to give me one-man shows. If I sell enough, I may just chuck my day job. Coming here has given me the courage to put this long-cherished sentiment into words."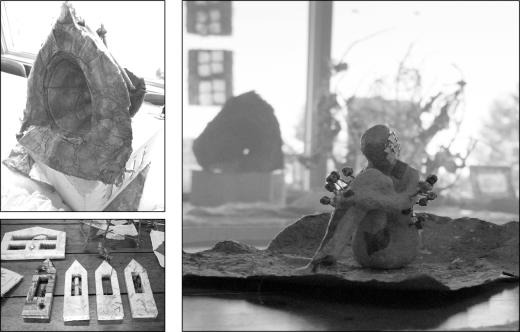 Many of us peek over the artist's shoulder when they first set up around the shore, and are privy to the beginning of the creative act. It's a wonderful experience to take in the art show at the end, to witness the transformation in the vision and understanding the artists undergo. The effect of standing in these two large rooms packed with burgeoning art made from the scenes with which we live is quite profound. We might be able to withstand the influence of a few works of art, but to see so many focused squarely on us as we circle the rooms imparts a sense that, without quite knowing it, we live in a realm of true inspiration. Granted, by attending the show we give the artists some necessary feedback, but they give us much more: a feeling that we are blessed to inhabit a virtual paradise.
---
The Real Beacon:
---
Search the Beaver Beacon Web Site & Archive: