Wheatland Music joins the Beaver Island Library's Story Hour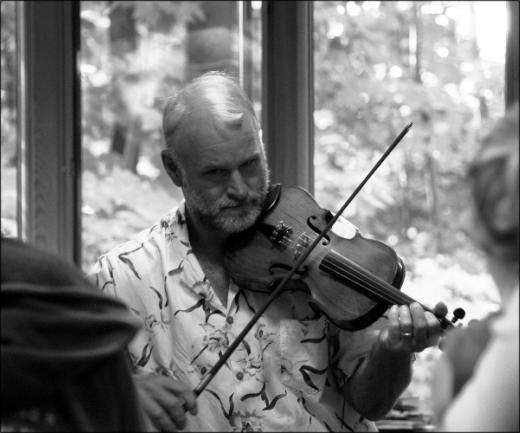 For the past six years fiddle and guitar player Bruce Bauman has contributed his time and talent to the Library's Story Hour, which Connie Wojan conducts every Wednesday, year around, from 10:00 until 12:00 a.m. His professional status was easily recognizable by the audience, which increased from the typical ten or twelve to thirty for each of his two appearances and were on the edge of their seats from his opening number (Oh Susannah) to the end. Connie frequently mixes in craft lessons and treats with her stories, but Bruce worked up too much of a head of steam to be interrupted.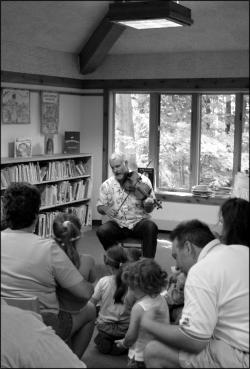 No wonder; as one of the founders of the Wheatland Music Organization, he is experienced at being in the spotlight. Not only does Wheatland hold a festival after Labor Day that brings over twelve thousand fans of traditional music to Remus, but they reach out to those unable to be there by sponsoring concerts and lessons in schools, hospitals, and senior centers in an eight-county area. Despite their limited budget of around $100,000, they have been able to buy a 160-acre farm as their base and to send musicians, story-tellers, and craftsmen into the outlying countryside to spread their appreciation for traditional arts.
Wheatland music has frequently aired on the PBS series, Our Front Porch. They are a 501(3)c non-profit corporation, which survives on memberships, donations, and a few grants. On their farm they have several stages, including one for dance (which might be a cajun dance, or square or contra dancing–contra features long lines of step dancing), offices, and a bunk house. It was at Wheatland that Bruce met Dick Tarrier, whose expertise inspired him to move from guitar to fiddle and become adept enough at it to become a fiddle teacher.
Bruce has learned a thousand songs since his full-time involvement with Wheatland began six years ago, but he still finds time enough to write a few of his own–such as the Beaver Island Song which he sang for our kids. Judging by their reaction, they can't wait until some of the other multi-talented visitors to the Island (this means you if this means you) take a hint and step forward to volunteer themselves for future Story Hours. After all, there are twelve Wednesdays, and Bruce has enough commitments so he can only take on two himself.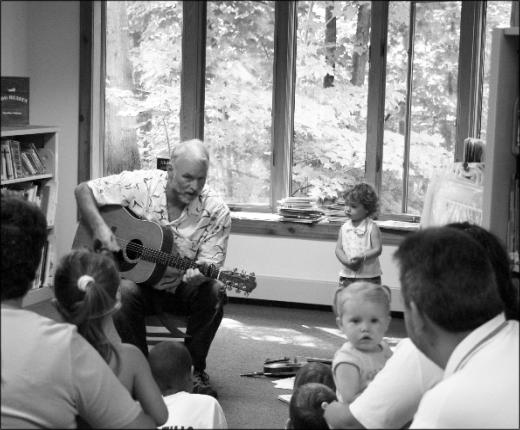 ---
The Real Beacon:
---
Search the Beaver Beacon Web Site & Archive: