The Homecoming Softball Tournament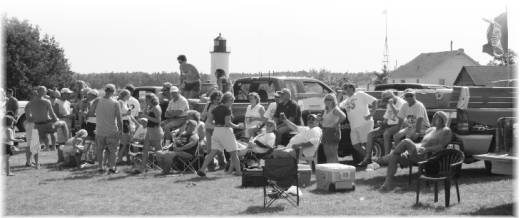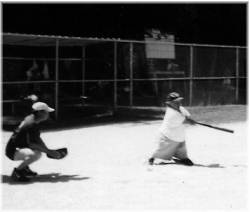 Twenty-seven years ago Jim Willis began talking up the softball prowess of Beaver Island teams, and mentioned to his Charlevoix friends that a few games were played over here during Homecoming. Well, they took the bait and issued a challenge, and ever since the defining aspect of our celebration has been the softball tournament. At times a voice of criticism has been raised over the teams and their fans all climbing in a single pick-up and cruising around with a radio blasting and a few beers being spilled. But all in all, it's little enough to have to put up with for all we get, economically, culturally, and in terms of energy.
This year eight teams vied for the trophy. Coming in third place was La Senorita's from Petoskey, Michigan. Second place for the tournament was Grey Gables of Charlevoix. The winner of the 2002 Bud McDonough Memorial Baseball Tournament was…the Beaver Island All-Stars.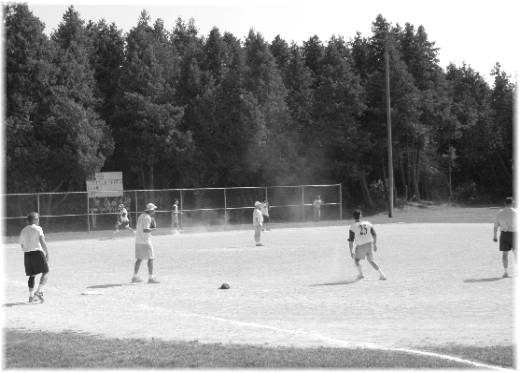 The winning team consisted of: Todd McDonough, Brad McDonough, Drew McDonough, Tim McDonough, Jim McDonough, Nathan McDonough, Joey McDonough, Kyle Wojan, Tony Rouch, Neal Boyle, Larry Boyle, Denny Weisenberg and Joey Turner. Congratulations team!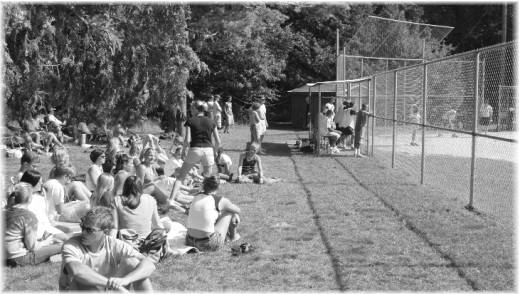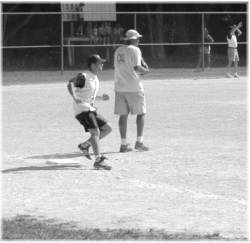 The umpires and scorekeepers voted the Most Valuable Player trophy to Brad and Drew McDonough. A fitting honor for these grandsons of Beaver Island's Joe Dimaggio, Joltin' Joe Bud McDonough. But perhaps the most interesting aspect of the tournament was the TDS lead-off batter in their second game: Island slugger Harry Wanty, an obvious ringer. Just as Bill Veeck had done with his St. Louis Browns 51 years earlier, Rich Gillespie wanted an advantage. Veeck's Eddie Gaedel walked on 4 pitches, and Harry took a pass too. His pinch-runner scored the first run, but the pitcher wasn't able to hold the lead. Gaedel only had one at-bat in the Bigs. Let's hope Harry can be induced to stand in again next year!
---
The Real Beacon:
---
Search the Beaver Beacon Web Site & Archive: