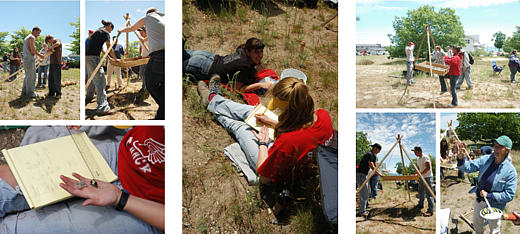 For the past few years Beaver Island has been the destination for Terri Bussey's Suttons Bay Anthropology Club, and this year was no exception. Forty-seven students, many of whom had to take time off from their summer jobs, along with nine counselors, arrived in late June to see what was under the sod at several Island locations.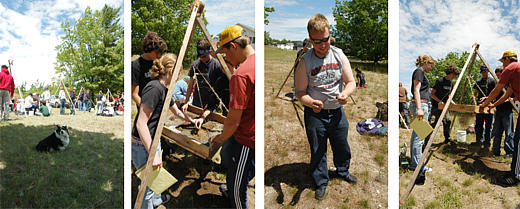 The gang camped out at the Bill Wagner Campground, where they ate like royalty–thanks to chefs Tim Belanger and James Warren. They did some general exploration of sites that might be investigated in years to come and then settled into areas for which they'd already received permission. Dividing into 5 crews, with each crew containing diggers, sifters, baggers, recorders, and drawers, they set out their 4' x 4' grids with string marking each square foot, and began to carefully remove 6" of soil at a time. Since one of their rules is that they will carefully restore the site so no one can tell a dig took place, the first layer of sod is set aside, and then following layers are run through a fine jiggle-screen.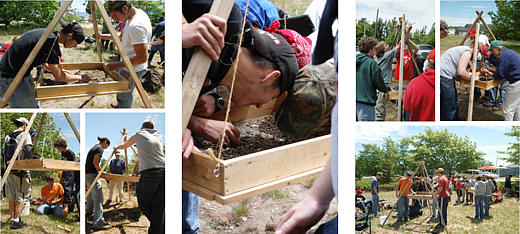 On the 24th, digging behind Daddy Frank's, they came up with several interesting finds, particularly the "three bees": buttons, beads, and bones. In addition they found a large extracted tooth and pieces of pottery, both of Native and European origin. Each item is meticulously catalogued, and at an appropriate time will be given to an appropriate agency–in many cases the BIHS. The students are inspired by this project; two of them are majoring in anthropology in college. And they are providing raw data from which extrapolations can improve our understanding of what early life on Beaver Island must have been like.
---
The Real Beacon:
---
Search the Beaver Beacon Web Site & Archive: