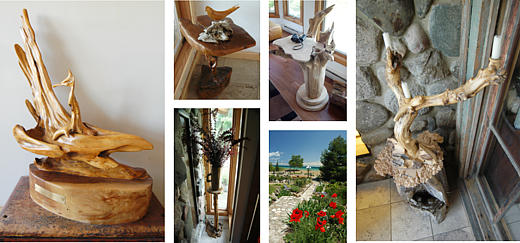 If you happen to come upon a tangled piece of driftwood on the beach or an interesting twisted log in the woods, and wonder what implied images it might contain, there's a man here who you can ask: Bruce Struik, who has developed his intuitive ability to visualize shapes and patterns barely suggested by natural forms.
Bruce's love affair with Beaver Island began long ago when, after getting his degrees (in geography and social science) he and some friends came to Beaver Island, acquired a piece of land on the lower east side, and started right in to build a cottage, Yesteryear, from the available materials: primarily stone, plus some massive (16" x 16") hewn beams delivered by Jewell Gillespie for $25 each. The friends built 2'-thick wall forms and filled them with fieldstone and mortar (35 tons each), and then set the beams across the width of the house.
Life took Bruce away from the Island–to run Hope's Big Brother program for 10 years, and then to open a gourmet restaurant for 13, but once he went back to his first love, teaching, he at least could spend summers here. In addition to the meals he served at the Christian Church, he became known for his 'found wood' creations beginning in 1971, which appeared at the BIHS Art Show and in local galleries. In the genre of bringing a table or a bookcase or a lamp out of something wild, he is a recognized master.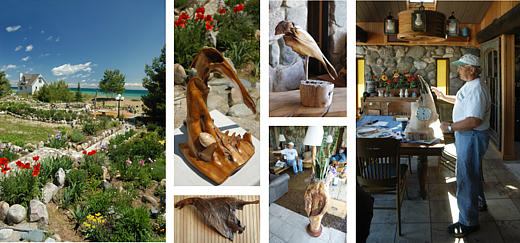 The things he picks up on his walks on the beach and in the woods can prove reluctant to give up their secrets–some finds have been sitting on a long table outside Bruce's home for over twenty years. But once an idea comes to him, he sets to work in his outdoor shop, cutting and carving and sanding and gluing and varnishing until something really quite remarkable appears.
His 'sculptor's sensibility' has found expression in a second arena: gardening. He started with a few rocks pulled off the beach, placing them to make a raised bed. One thing led to another, and suddenly his home was surrounded by gardens using rocks ranging to boulders to create beds and paths and ponds and hills–and even a waterfall. Now, with two interests to take his mind off his health problems, he has put himself in an ideal position for stimulating his aesthetic explorations: working furiously in his garden, he is likely to suddenly see something inside the chunks of wood sitting in his rack, and when he's polishing another burl or tangled root he might conceive of the perfect esoteric flower to add to his extensive plantings.
---
The Real Beacon:
---
Search the Beaver Beacon Web Site & Archive: