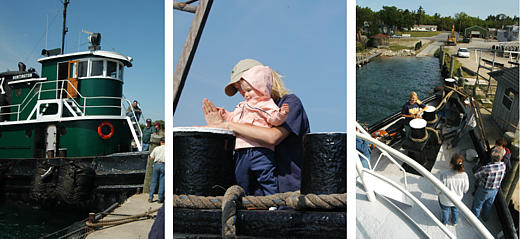 Growing up in proximity to his tug-loving grandfather Clyde, certain unique ideas took root in Ben Fogg–such as that it would be great to have a tugboat for a home. The average man experiences a few such ideas during the course of a life, usually letting them flit in and out of his head. But Ben has never been one to let a dream slip away.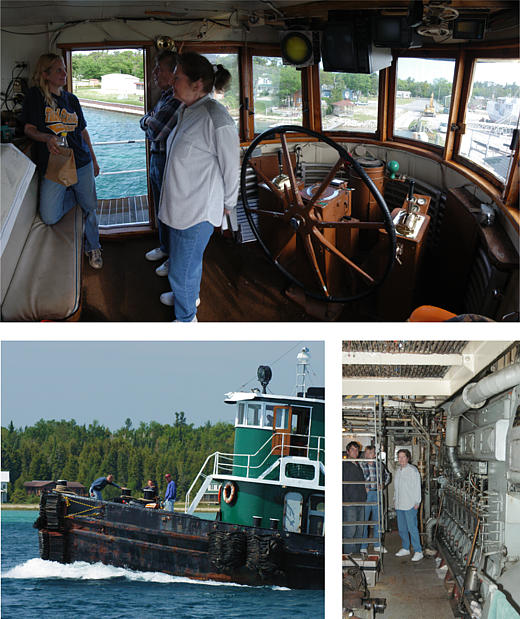 So at the end of May Ben, his wife Sarah, 9-month-old daughter Elsa (who stayed with Grandma for most of the trip-except for the last leg), and good friend/engineer Derek Rietman (Tiny) drove to New York to complete the purchase of a 95' working 1950-era tug: the Huntington, a sturdy steel behemoth that was dwarfed in the busy waters around Staten Island by the abundance of even-larger tugs, some towering ten stories high. It had everything Ben wanted: thick plating, a nicely-humming 1200 hp (at 700 rpm) Fairbanks Morse diesel engine, plenty of equipment, and an upper deck that could be expanded into a Great Room with a panoramic view of the water. Once the paperwork was complete, the Ben Fogg family andTiny, plus a few friends to help, began the trip back through the Erie Canal. Able to cruise at 10 ½ mph, the trip might have been completed in a week. But a few things happened, such as encountering a sand bar in the Erie Canal that prevented the tug, with its 12' draft, from passing until a dredger could remove the obstacle. At least while she sat still the 30 gallons/hour fuel consumption rate went way down. Then it rained–and rained and rained, so much that the canal rose 5.5 feet, stopping the locks from working and creating extreme currents. The crew considered tying up and not returning until the water subsided. The tug's 20' 6" height would not slide under a dozen or so bridges, which had a clearance of 20' 0", unless the bilge was pumped full of water–putting her at risk until the ballast was reduced on the other side of each low-hanging impediment. Not to make things worse, but when heavy ballast was taken on, she began to scrape the bottom and risk getting stuck.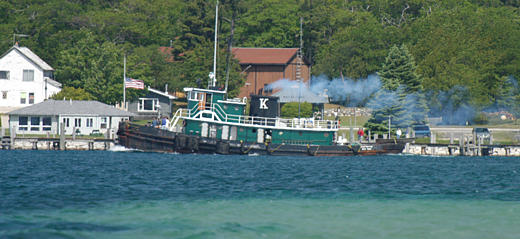 All the obstacles were behind them when they hit Detroit, but there they learned of something else that would turn into a delay: a tugboat race set for June 19th, with 25 tugs already enrolled. A tugboat race! Who could resist? So she was entered, and raced, and performed well against competition whose captains had spent five, ten, even twenty-five years learning the fine points of handling their temperamental craft. No one gave her a chance to win, and they didn't. They finished third, leaving several hard-working machines in their wake.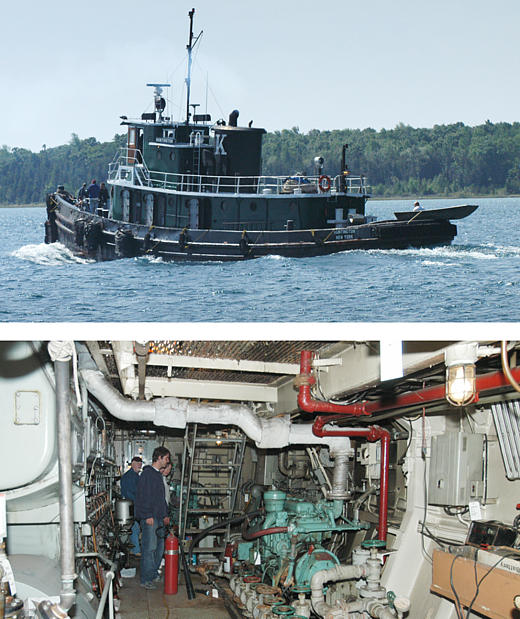 She stopped at Beaver Island for fuel the morning of July 21st, and then was off for her home in Saugatuck. Now the real work of converting her will begin, which Ben and Sarah intend to do themselves. First there'll be a renaming ceremony in which she'll become the Spartacus. Some people would be daunted by the multiple difficulties awaiting them, but not Ben. After all, he's been planning this for the past seven years.
---
The Real Beacon:
---
Search the Beaver Beacon Web Site & Archive: