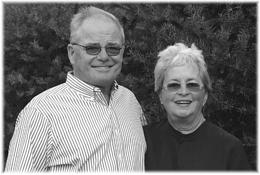 On May 12th 2004, west-siders Jeanne and Ralph Graham were feted by the American Institute of Architects Michigan for their distinguished service to the profession of architecture by being named Honorary Affiliate Members of AIA. Long-time patrons of architecture, these activists in environmental and preservation movements established, six years ago, the David Evans Memorial Grant for Historic Preservation.
Jeanne Graham is a retired registered nurse who currently works with Cranbrook House and Garden Auxiliary, helping preserve the gardens, and serves as president of the Clannad Foundation. Ralph is a retired film producer and retailer who operated Orthogonality for 18 years. He has been the gardener in charge of Cranbrook's Oriental Garden, and sits on the board of the Michigan Land Use Institute.
Ralph and Jeanne have supported many Island causes, such as PABI, the BMX track, and the Marine Museum.
---
The Real Beacon:
---
Search the Beaver Beacon Web Site & Archive: