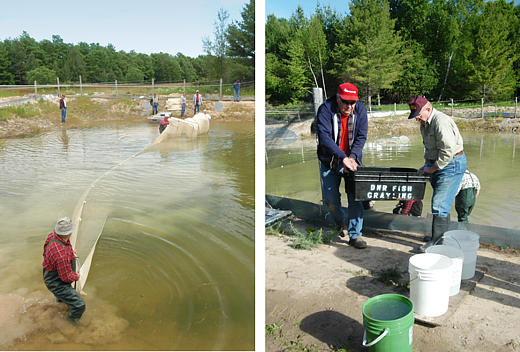 After the disappointment of last year, the Wildlife Club took extra pains to make sure its fry turned into fingerlings, monitoring the air content, adjusting the netting and turtle barricade, and bringing in fire-truck-loads of water. Perhaps most importantly, it watched the growth of its charges so it could get them out of the pond the moment they began to develop a taste for their brothers – cannibalism was the primary problem last year.
On June 25th a DNR officer arrived with his specially-equipped "minnow truck" and six hoop nets, which six strapping men in waders strung across the pond. Alternating directions, the nets were anchored with their tunnels submerged in three or four feet of water. After the nets were set, the crew had to wait until the following morning to see how many fingerlings were caught.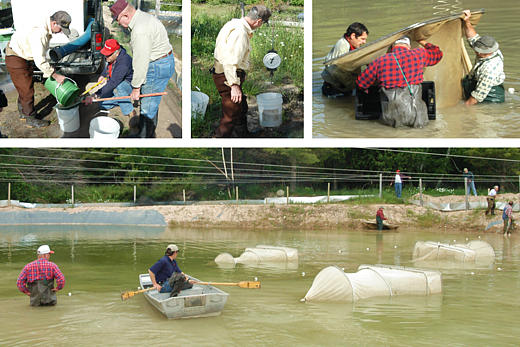 The next day the group met again to harvest their catch. As each net was emptied into a floating box by Jeff Powers, Mark LaFreniere, and Doug Tilly, the gobs of young fish were cause for joy. On shore they were poured through a double net and weighed. Extrapolating, a good estimate was over 9,600 fingerlings, measuring about 32 mm long. They were obviously hungry, a good sign that they'd been nabbed in time. Thankfully, only a few were jumbos, so the "dog eat dog" rule of the pond had not yet kicked in.
After chucking six adventurous turtles and a small snake, the walleyes were driven to Lake Geneserath in a stately parade of grinning enthusiasts, and released. They loved their new home.
---
The Real Beacon:
---
Search the Beaver Beacon Web Site & Archive: