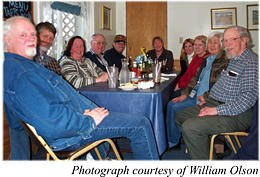 The Strang Writers Group's late-May conference on Beaver Island was quite a success, drawing people from Virginia, Pennsylvania, Connecticut, Evergreen Colorado, Illinois, Wisconsin, Denver, Lansing, and Harbor Springs, as well as locals Rod Nackerman, Frank Solle, Phyllis Moore, Phil Becker, Sharon Nix, Robert Cole, and Bill Cashman. Ideas about what made this controversial figure tick flew fast and furiously during several presentations on Friday and Saturday, leading up to a casual round-robin reading of John Baldwin's sweeping play, Strang! Perhaps the one most applauded was Robert Cole's description of Strang as a narcissistic exemplar of Borderline Personality Disorder, heavily dependent on feedback from his closed community to sustain his self-imposed identity as prophet and civic leadera judgement that did not diminish his fascination for those who follow characters who live and think large.

Besides having a good time, the "Strang Gang" took care of some business, agreeing to meet next June and again on June 16, 2006, the 150th anniversary of "the shots heard 'round the fishing grounds." The 2006 event will be given national publicity, and could produce an interesting crowd. Other provisional decisions included the adopting of a mission statement, the creation of a web site, and the moving toward a more formal status in order to qualify for potential funding to help with such enterprises as publications and the staging of Strang events and plays.
The Gang congratulated Vickie Speek for having had her scholarly book, 12 years in the making, picked up by Signature Press for publication next spring. She read the conclusion to her book, after SWG founder Bill Olson entertained the group with a selection from his work-in-progress in which residents of Washington Island consider how to protect themselves from Strang's raiding minions. And the Gang wished SWG-member Connie Cappell good luck when she journeys to Key West next month to once again offer her controversial views on Ernest Hemingway's early love life to the staid, primarily-male attendees at the next biannual Hemingway symposium.
After the Friday discussions, members retreated to the Shamrock, where the Islanders entertained them by staging a vestigial brawl. So naturally they returned on Saturday night, and were invited into a home where they were serenaded with old-time Island songs, such as We'll Dance on Strang's Bones and Let's Sweep the Beavers Clean.
Those who missed out on the fun should keep their ear tuned to NPR for the radio program being developed by Jennifer Nix from recordings of the various sessions and interviews with the attendees.
---
The Real Beacon:
---
Search the Beaver Beacon Web Site & Archive: