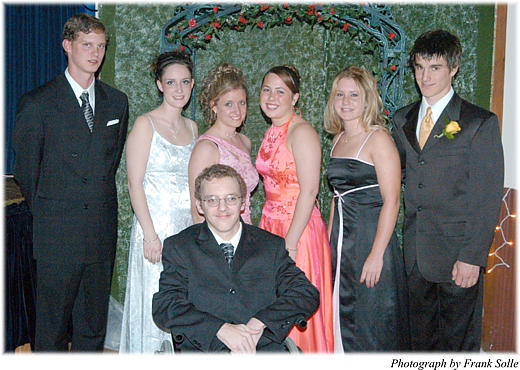 On Saturday, June 5, at 1:00 p.m. seven seniors from Beaver Island Community School will march down the aisle at Holy Cross Hall to the lilting melody of "Pomp and Circumstance," as they bring to a close a major chapter of their lives.
A bittersweet time, high school graduation marks the end of one era and the start of another. All seven members of the class of 2004 are excited to have the rest of their lives begin to unfold.
Receiving diplomas this year are:
Laura Bosquet. Laura has new places in her future, following a summer working at the Emerald Isle Hotel. "I'm going to travel with my sister. We're going to the Virgin Islands, just for the experience," she says.
While college plans are uncertain at this time, Laura sees a possible future career in cosmetology.
Laura is the daughter of Kevin and Debbie Bosquet.
Kerrie Gillespie. Kerrie has a busy summer planned with a number of jobs to keep her hopping. "I"ll be working at the Beaver Lodge, the Harbor View Hotel, cleaning houses with my mother and cleaning my Uncle Robert's boat," she says.
The fall will see Kerrie moving on to Lansing Community College where she will begin to study psychology. After two years at LCC, Kerrie plans to transfer to Michigan State University.
"I'm going to the community college first because the transition should be easier and I'll be able to adapt quicker because of the smaller classes than at MSU," she explained.
Looking back on her last four years, Kerrie said, "I had fun in all my high school years. I enjoyed having friends that made you laugh."
In a year in which no student met the school's strict grade point requirement to be named valedictorian, Kerrie's top ranking in the class brings with it the distinction of being the salutatorian of this year's graduating class.
Earlier this spring, at the annual Sports Awards Ceremony, Kerrie was awarded the Bill Burns Sportsmanship Award for her outstanding contributions to the school's sports program this year.
Kerrie is the daughter of Rich and Laura Gillespie.
Barry McDonough. Barry will be spending a good part of the coming summer at the south end of the island working on projects at Ed Wojan's Applewood property.
The completion of those chores will see Barry then moving to Traverse City where he will be attending Northwestern Michigan College. At this time Barry is still unsure of a career path, but is hopeful that his first two years of college will help clarify his choices. "I'm going to do my general studies there and figure out what I want to go into," he says.
This past school year Barry was named the Most Valuable Offensive Player for both the soccer and basketball teams and named to both the soccer and basketball All-League teams.
Barry is the son of Bill and Tammy McDonough.
Dan McDonough. Dan will be spending the upcoming summer focusing on his drawing and making plans for the future.
"I'm not sure about college yet," he says. "I've been so busy getting through high school. Once I get a chance to decompress from all I've done in high school, I'll look into that."
Dan does have a lofty goal, however. "I want Stan Lee's job," he says with a smile and a laugh. "He's the big guy behind Marvel Comics."
Dan said his school years have been enjoyable. "I've been here a long time. It's been a good experience and I've met a lot of people." Of his teachers he added, "Mr. Stambaugh is one of the more interesting and entertaining-to-be-around teachers I've had."
Dan is the son of Joe and Tarry McDonough.
Mike McDonough. Mike's future plans, following another summer working as a deckhand and dock worker for the Beaver Island Boat Company, include attending Northwestern Michigan College in Traverse City this fall where he will begin a study of electrical engineering. Following two years at NMC Mike hopes to transfer to Michigan Technological University in Houghton.
Mike is the son of Joe and Tarry McDonough.
Rachel McDonough. For the second straight summer Rachel will be working at McDonough's Market.
Rachel plans on attending Mid-Michigan College's Mt. Pleasant campus in the fall. There she will work towards her general requirements for two years before transferring to Central Michigan University where she hopes to major in Elementary Education in order to eventually become an elementary school teacher.
Of her current teachers, Rachel said Mr. Stambaugh was pretty cool, sometimes. "He pushed us like college students," she explained. "I didn't like it at the time, but once I get to college I'll appreciate it."
Rachel is the daughter of Jim and Diane McDonough.
Christine Runberg. Christine has been working at the Shamrock for the past year and will continue in that capacity throughout the summer. Beyond that, Christine says her future is yet to be decided.
"I really don't know," she says of her plans for the fall. "I haven't picked a college yet, but I hope to go." At this time her possibilities include moving to Colorado, Chicago, or Traverse City.
Wherever the future takes her, Christine says of her classmates, "I will miss all these beautiful people around me."
Christine is the daughter of John and Joyce Runberg.
---
The Real Beacon:
---
Search the Beaver Beacon Web Site & Archive: