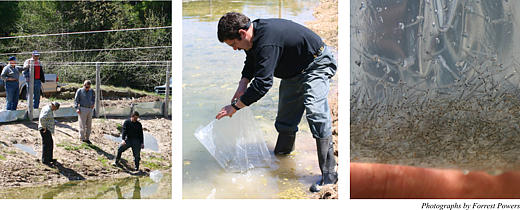 At its May 13th 2004 meeting Beaver Island's Wildlife Club vowed to do better than last year's picayune yield of walleye fingerlings. One problem is, the old 'Joe Nuke' windmill no longer towers above the trees. To power a well pump, the Club will install ~1,000' of underground aluminum line, which will also allow it to use an aerator. The pond is in good shape, but a volunteer work crew will patch a few rips in the liner (with clay) and tweak the flashing surround. It might hang reflectors off the net lines to discourage foraging birds. No turtles have yet been seen in the pond, but they're just starting to stir. The plankton seem adequate. Jeff Powers took an aqua-culture course this winter, and has an air-content testing meter. Last year the state's fingerling production was down 75%. This year's supply of 25,000 fry was expected soon.
Brian Mastenbrook offered to consult about the deer herd. Some of the herd-enhancement methods under discussion are: a greater restriction on minimum antler size; restrictions to one buck; increasing the number of one-day doe permits from 900 to 1,200; and discouraging hunters from using permits from their relatives and friends. A snowmobile tour revealed places at the south end where deer had been run onto the ice by coyotes and taken down. Deer were seen standing on snow drifts to browse on cedar trees–10' off the ground!
Because the deer rifle season starts on a Monday, the Hunters' Dinner will be held on the preceding Saturday (11-13) at Nina's, with the first sitting (whitefish and steak) to begin at 5:30, with all profits from the food going to the Wildlife Club. The raffle organizers might offer two guns, so for one ticket, guests will have two chances to win.
---
The Real Beacon:
---
Search the Beaver Beacon Web Site & Archive: