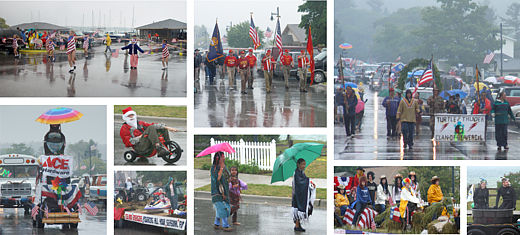 Beaver Island has been smiled on by the sun for so many years now on the Fourth that when the sky opened and a downpour doused the would-be paraders, no one knew enough to get out of the rain. So the Annual Parade took place after all, following an intrepid performance by Signe's Soaked Irish Tappers and the valiant Community Choir, squeezed tightly together under the Yacht Dock roof.
The sidewalks were thick with the huddled crowds, whose attitude seemed to be, "If they've got the dedication to march, we can have the dedication to watch." As the puddles grew deeper and float after float slogged past with the riders chucking candy, the general feeling was that the parade would pass through town quickly and then everyone would hurry home to dry clothes and a fire, but as the crowd prepared to depart a shout went up: "By gosh, here they come again!" Sure enough, the parade had circled the last block and come back in stately formation, beaming with pride at its pluck and perseverance.

The music played on. The clouds seemed to drift away, but then returned; the sky was so thick and dark that the scheduled fly-overs were called off. Yet everyone stayed to the very end, not minding in the least if they were hit by one of the traditional water balloons.
---
The Real Beacon:
---
Search the Beaver Beacon Web Site & Archive: