The Historical Society held its 24th annual Museum Week during the 3rd week of July, and was pleasantly surprised by the results. The extra Nature Walks CMU puts on for the Society were well-attended; dozens of people took advantage of Antje Price's presence to visit the Protar Home and listen to her talk about "our Heaven-sent friend"; and the Pet Show gave many kids the chance to showcase their bird, fish, or dog.
In the afternoon, people found Jay Peck's presentations on archaeology very informative. Jim Gillingham was unable to be here, but in his place Matt Cross did a fine job talking about and showing reptiles and amphibians to a large crowd. The Shing Martin's Net Shed's 100th birthday brought several family members here, where they could talk to the scores of people taking part in the celebration, enjoy a piece of birthday cake, or learn about net-making from Paul and Garrett Cole.
Doris Larson was unable to host Music on the Porch, so Robert Cole took her place. After 200 people had taken their seats in the closed-off road, the Community Choir, the first of 20 performers, got things rolling–followed by a foretaste of Saturday's Stephen Sondheim songfest. Several young performers did fine jobs with contemporary songs, and the Island's favorite musicians mixed familiar tunes with a couple new songs. Near the conclusion of this three-hour event, the totally unique stylings of L. D. Ryan combined sung and spoken lines, poetry, and programmed and played music on a sythesizer/keyboard providing a taste of his Saturday Night Mike evenings at Beaver Island Marine.
GLLKA members Michele VanderVelde and MaryAnn Moore, both teachers, set the about-to-unfold Whiskey Point Light restoration in context by describing and showing pictures of GLKKA saving the St. Helena Light. The Beaver Island project should be easier; everything, from cement blocks to scaffolding to furniture, even an old organ, had to be carried to St. Helena in a 10' Zodiac, and there was no power or water. GLLKA uses volunteer groups (scouts and others), and many of these workers form life-long bonds.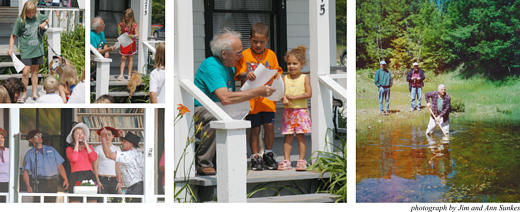 On Wednesday Robert Cole did double duty by presenting material from his most recent Oral History interviews with Bill Bennett, Bill Carnes, and the 'Rushins.' His project of documenting the ambiance that has made Beaver Island so rich today is gaining momentum. He has copied many of these tapes and is making them available for a reasonable fee to help cover this program's cost; a list is available at the Museum.
Native American Joe Mitchell spoke about the traditional lifestyle he practices, an approach stressing balance and combining the urges of heart, body, and mind. Those who knew him as a rebellious activist with the AIM would be surprised at the tranquility of his message: we are all in this together, and we must work together to have any chance. An entertaining, gifted speaker, his talk ranged between matters of broad history and daily personal choice, with Trickster tales from his childhood thrown in. The consensus afterwards was that in this time of crisis his humor and wisdom is more important than ever.
Something was in the air on Friday night that elevated the voices of Ed Palmer, Cindy Gillespie, Rich Scripps, and Hillary Palmer to new heights. Everyone at the Big Dance could tell this was a special performance; the band knew it too, and could not bring itself to stop until after two Saturday morning. The only regret anyone had was that this didn't take place in a recording studio so they could get a CD and keep the spirit moving when they went home.
The cast presenting Saturday's wonderful Evening with Stephen Sondheim was also in fine form, managing to overcome the frustrations of a hundred things going wrong. Gone was the nervousness of a first performance as they feasted off the excited anticipation of the audience. 110 people were delighted to witness this show of talent, expressing their pleasure with an extended heartfelt standing round of applause. Hats off to Brenda and Elaine and the whole troupe for a truly wonderful evening!
Yet the story of this Museum Week was really the success of the Ray Denny Memorial Art Show, which the BIHS Board moved into the gym itself, with the help of 18 new 8' x 8' panels. Thanks to Laura Pratt, 22 artists had work on display, and the record receipts of last year were more than doubled. Laura took two weeks off from her job at Borders in Ann Arbor to organize and run this event, with the Historical Society, for which it made $1,200. She received much help from Frank Solle, Lois and Kevin Stipp, Pat Boyle, Ted Nicholas, and others. She has promised to work hard to make next year's Art Show even better, with a target goal of having 30 or more local artists in next year's event.
All in all, the BIHS feels it is helping give the Island's ambiance a richer and more interesting flavor by offering this kind of schedule of events, which contributions from the leading merchants help it to produce. The favorable reaction always helps melt away the exhaustion that follows each year's presentation, and stimulates the Board and members to vow, "It'll be even better next year!"
---
The Real Beacon:
---
Search the Beaver Beacon Web Site & Archive: