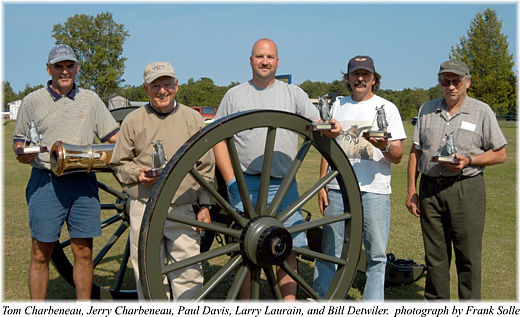 A beautiful Beaver Island summer day greeted 90 golfers for this year's annual Fourth of July Tournament. Divided into 18 five-person teams, the duffers–old and young, good and, well, the rest of us–played a nine-hole round of best ball golf for the cherished bag-and-club trophies.
Tournament director Jerry Sowa welcomed the participants to the "best golf tournament in the state" prior to explaining the ground rules and doling out the scorecards. The only requirements were for each golfer to account for at least one drive, with no team member accounting for more than two drives on the day. With the teams dispersed around the course, two per hole, course manager John Works Jr. fired his Civil War cannon to signal the start of play.
While the sunny skies, warm air, and light breeze created excellent playing conditions, Works and his grounds crew have groomed the course into what many veteran players termed the "best shape" ever. Tee boxes were pushed back and pin placements on the greens were moved to their trickiest locations in an effort to baffle the would-be champions.
This year the team of Tom and Jerry Charbeneau, Paul Davis, Larry Laurain, and Bill Detwiler topped the field with a very strong three-under-par 32 to claim a year's worth of bragging rights.
In addition, prizes were awarded for golfing exploits at every hole, including the longest drive on hole number one, closest drive to the pin on the two par 3s, closest to the pin on the second shot on the other par 4s, plus closest to the pin on the second shot of the long and challenging par 5 seventh hole.
Afterwards, tourney director Sowa thanked the prize providers. "The merchants on this Island are just tremendous," he said. "We had $50 prizes for nearly every hole and a $200 gravel prize for number nine."
Numerous door prizes–gift certificates, calendars, t-shirts and caps, golf balls, and an authentic wooden golf "club"–were drawn following the tournament as well, again all donated by local merchants or individuals.
---
Note: The Beaver Island Golf Course web site can be found at www.beaverislandgolf.com
---
The Real Beacon:
---
Search the Beaver Beacon Web Site & Archive: