Here comes … the Acacia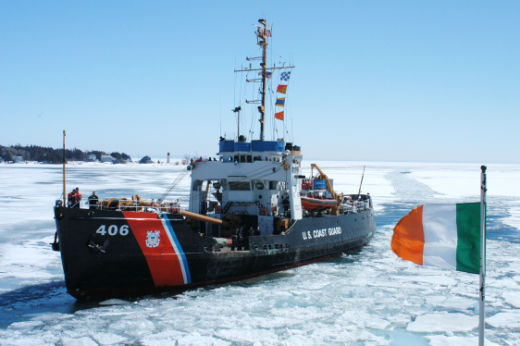 Winter ended at the end of March but then returned. April's arrival had promised freedom from the snow and ice, but with a new ten inches, everyone on Beaver Island was glad to hear the news: "the boat, the icebreaker: she is coming!" So on April 10th twenty-five people and several equally cabin-fevered dogs gathered at Whiskey Point to watch the sturdy steel-hulled Acacia, fresh from winter duty in Chicago, carve up the foot-thick barricade that had surrounded Beaver's shores.
The wind was perfect, blowing to the northeast: the burgs the icebreaker was calving would blow away from the Emerald Isle's route. Some thought the ice would be thicker, but an earlier two days of rain had created warm lakes on the surface that mirrored the melting action of the current below, and the great white tectonic sheet that had blanketed us broke easily into mushy pieces.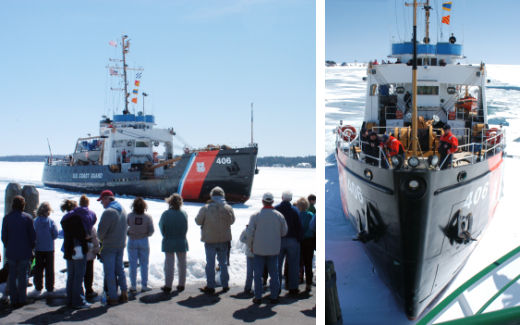 When the welcome ship passed the Coast Guard Station, everyone acted spontaneously, jumping back in their car or truck and racing to the Ferry Dock, where the kids who'd been let out of school were waiting with another thirty adults. They needn't have hurried because a thousand feet out the powerful boat had come to a complete stop. There she sat, as the gathering joked: it had to be lunch time.
Then she came on, her motor churning and seagulls billowing as she chewed through ice that had thickened to thirty inches, without being strained. Cameras clicked; dogs turned frolicky; and people said hello to those who'd hidden out in their cabins during the long run of short days. The Acacia came right up to the dock with the grace of a dolphin, and then backed away–time and again, widening the path to the rest of the world. But on one of these feints the calculation the Captain was making from her high perch was not quite good enough and the ship tapped the bow of our beloved Emerald Isle. The row of observers did not quite believe what they had seen; the railing was bent at three stanchions, and a dimple left in her bow plating. The ding was only cosmetic, but it was a reminder of the raw force and skill involved that we often take for granted after seeing the ships being maneuvered flawlessly year after year. When the Acacia steamed away, there was a narrow alley cut in the ice, through which groceries and fuel oil and building supplies could be brought, starting with a trip the day after the following day. But two days later ice showed up all the way from Traverse City–apparently needing a vacation–and the Acacia had to come back!
---
The Real Beacon:
---
Search the Beaver Beacon Web Site & Archive: