Our World-class Totem Pole Carver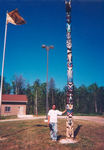 Many people who see Skip Duhamel on his fish tug, or working with Johnny B in the winter, or with his equally-talented wife and their daughter Desire at a school function, don't realize that he is one of the diminishing number of master Totem Pole carvers. When he was sixteen, his father, a great student of human nature, came home with a seventy-year-old man he'd picked up hitch-hiking, Tom Kukoosh, who turned out to be an itinerant carver. Skip had already apprenticed himself to a jewelry maker, but when the old man offered to stay in his home and teach him, he changed his artistic direction.
It was not an easy tutelage. Skip was impatient, wanting to rush to the last steps, but Kukoosh stressed repetition, performing each special stroke over and over until it became second nature. After a year the teacher finally pronounced his charge ready to strike out on his own. Saying that, Kukoosh left, never to be heard from again.
As word of Skip's talent spread, commissions began to increase. He did four pieces for the interior of Deerwood, and is working on a cameo of a fawn for the main fireplace. He has turned his home into a ship by carving a mermaid for its peak. He has achieved such a level of expertise that he was asked to carve the Celtic Cross presented to the people of Arranmore, which he donated; now it hangs in St. Crone's church.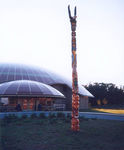 Carving a Totem Pole requires a great commitment, which Skip has been willing to make. His work begins with the search for the right tree–always a cedar. Once he has located a candidate, he makes an offering of tobacco or sweet grass, asking it what secrets it contains and thanking the forest for its gift. Sometimes what is revealed to him at this point will determine some or all of the shapes he imparts to the finished work. Once he's determined the design, he has to draw it onto the surface of the peeled tree, which requires him to hold the entire plan in his mind. When it's finished he frequently paints it with enamel and then coats it with urethane.

Each Totem Pole tells a story about his people and what they do. One that he made for his father used only fishing symbols, but the ones he did for the Turtle Dome in Peshabetown, for which he was paid five thousand dollars, used that community's clan symbols, the turtle and the otter, the crane, bear, loon, kingfisher, wolf, sturgeon, rabbit, and eagle.
Taking between one and two years each to create, Totem Poles require a great deal of patience. Sometimes the inspiration wanes, and he has to walk away for a moment–or for three months. The act of carving, though, puts him in touch with his heritage, and each stroke elicits memories of the people and their stories. Because his religion plays such an important role, carving a new work is like an act of faith, letting him both express and affirm his beliefs.
–Jackie Martin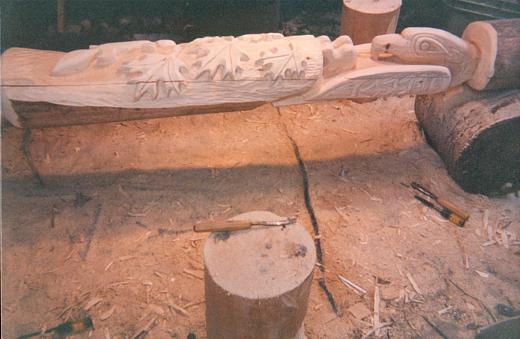 ---
The Real Beacon:
---
Search the Beaver Beacon Web Site & Archive: