Cindy Turns a Page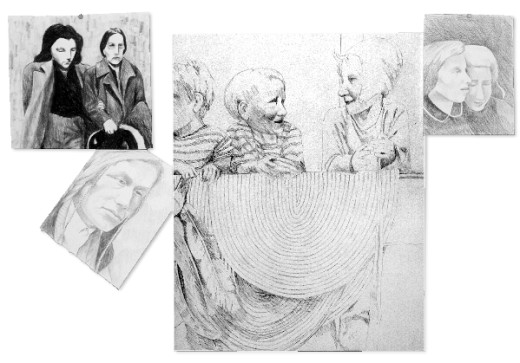 For those who have been following our resident artistic genius's involvement with the Youth Consortium projects and have been asking, "What's Cindy Ricksgers been doing with her art," we have an answer: it's been developing just fine. The winter before this one she had spent most of her time creating a stunning series of collagraphs, the abstract 'pyramids' that impart such a surprising sense of tranquility–perhaps because their jumping-off point was the steeply gabled room in which she had felt so secure as a young girl. This winter, with far less time on her hands, she concentrated on three areas: a few new collagraphs (in which the interior of the 'safe room' has begun to develop); some realistic drawing; and experiments in a new medium: encaustic.
Encaustic is an ancient medium that had its origin among Greek painters in Egypt at the beginning of the Christian era, but has picked up and expanding number of practitioners in the past fifty years–thanks in part to its use by Diego Rivera and Jasper Johns. It involves the mixing of wax (primary beeswax) with oil paint (typically in a 3:1 ratio), and the application of a heat gun to the finished work to diffuse the paint in three dimensions and give the work a shimmering aura. This past winter Cindy has experimented with applying encaustic to a series of collages done on wood, abstract designs involving mosaics imposed over a colored background, with a variety of elements added to impart energy, many taken from her various painted hand-made papers. The end result seems to fix and present a mystery, the way one can't get over it when an injured songbird lies fluttering in one's hand: here it is, these works say, flickering in and out of existence, removed from its timeless domain.
Cindy is nothing if not a consummate artist. As such, with each new turn in her road, she insists on knowing the context. So she thoroughly researches her proposed departure, learning the exact place to which her compatriots have pushed the envelope so she can step in without a beat being missed. But like any good artist, she is experimental, even playful, always looking for something new. "I want to break rules like crazy," she said. "So I have to know what all the rules are, first." She is proceeding through the dark by the light of her own very bright internal candle, communicating in a language of gesture and feeling and mood. She may not know what she will find, but she knows exactly where she is.
Cindy's work is available at the newly-expanded Livingstone Studio on Beaver Island, and Main Frame Gallery
in Mt. Pleasant.
---
The Real Beacon:
---
Search the Beaver Beacon Web Site & Archive: