James Kenwabakisee Breaks Out

Two days after the Acacia sliced through the ice, the Emerald Isle made a round trip while Jimmy Ken slowly and laboriously, but with great expertise, hammered and sliced and smashed a channel from his dock north of Bud Martin's into the ferry channel. The primary technique involves ramming the boat up onto the ice, letting it settle through, and then backing away to get up steam for the next run. The sheet of ice covering the east half of the harbor was pressed down by the weight of his boat each time, making water squish out from under the edges at the shore, creating a mini tidal wave.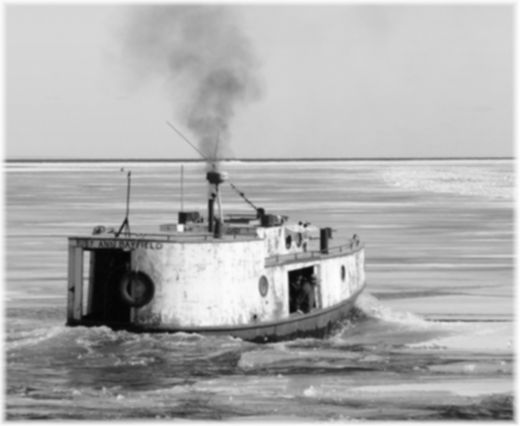 Once he hit the channel, he and his merry gang did a quick circle for those watching from the ferry dock, and then raced out of the harbor for a much-deserved first spring trip while his wife and daughters sat patiently on the dock, "letting the boys have their fun."
---
The Real Beacon:
---
Search the Beaver Beacon Web Site & Archive: