Buggies Barnstorm Beaver.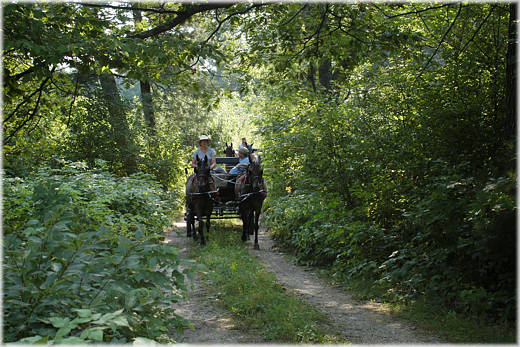 A few days after the antique cars toured Beaver Island, another vintage mode of transportation, the horse and buggy, made an appearance on Beaver Island. Shaker Hites and Cloyd Ramsey each brought two buggies over for the Labor Day weekend, and took a few extended tours each day.
These buggies are modern versions of traditional models, and cost around $2,500 each. Some had inflated tires, some solid; each is better for certain terrain. The hitches were fastened to the front shocks to take the pressure off the horses' shoulders. They exhibited some technology, such as the use of ball bearings, but stopped well short of the $10,000 composite material racing buggy that is becoming so popular.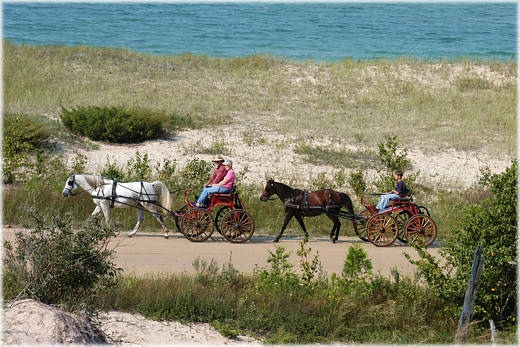 No one is sure how many buggy enthusiasts there are in America, but a good guess is 15 to 20,000. There are national clubs, competitions, gatherings, and newsletters, as well as smaller clubs in every state. They say that all it takes is climbing in a buggy and having a good ride through a scenic landscape to get the buggy bug.
It's not exactly a safe sport, though, although being hit by a car is not a significant worry. The biggest danger is a buggy-to-buggy collision. Horses are temperamental, and high-strung. Some can be trained to the buggy in six hours, but some require six months, and some never learn. Once a group of buggies sets out on an expedition, a contest between the horses can develop. And seldom are two content to travel at the same speed for very long. Another problem for the driver is that in populated areas they have to stop to remove the droppings, carrying dustbin and broom; some cities have even passed diaper ordinances, especially for guided tours.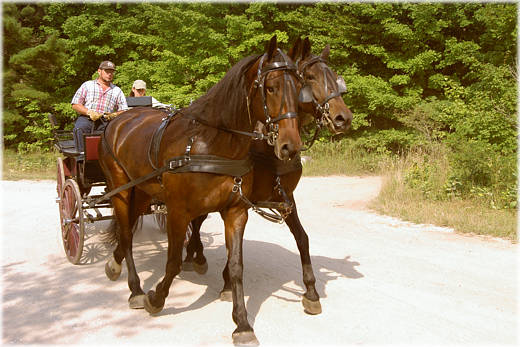 Labor Day was a beautiful weekend for this junket, although something happened the night of September 2nd that could have ruined it. The group was just sitting down to eat a late dinner at Shaker's home on Freesoil Avenue when they heard a clatter of hooves and saw four of their horses burst through the fence and gallop past the window. The crew took fifteen seconds to gather itself and then all of them jumped into a Suburban and gave chase. Reaching Main Street a moment later, the frantic horses were nowhere in sight--but they had hit the asphalt with such force that they left a track. Down past the Shamrock they went, and then up to the King's Highway and out of town. The tracks disappeared at Phyllis Moore's, so the gang turned down Carlyle Avenue and flashed their lights down every driveway. Finally they found all four huddled together gasping for breath in Robert Gillespie's shop lot across from his home. What spooked them? "We'll never know," Shaker admitted, taking out his guitar for a few songs before turning in. "Never had that happen before in my life."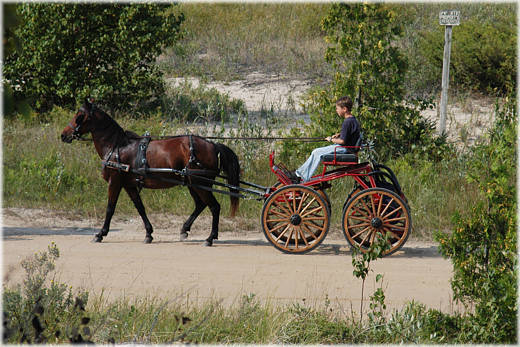 Whenever Cloyd comes to the Island, he has to reminisce about when he helped his father log on Beaver Island. They conducted their operation completely with horse power, working at the croquet mill or Camp #3. He was just a boy, but he worked like a man and formed life-long bonds with many Beaver Islanders. This is where he developed the appreciation for horses that got him into buggies. "We picked up and left over 40 years ago," he said. "But sometimes when I'm driving a team out in the country, all those intervening years just disappear, and I have to pinch myself to remember that since that time a lot has happened. The internet, cell phones, and men on the moon."
The Real Beacon:
---
Search the Beaver Beacon Web Site & Archive: