Practice Makes Perfect: the Christmas Cantata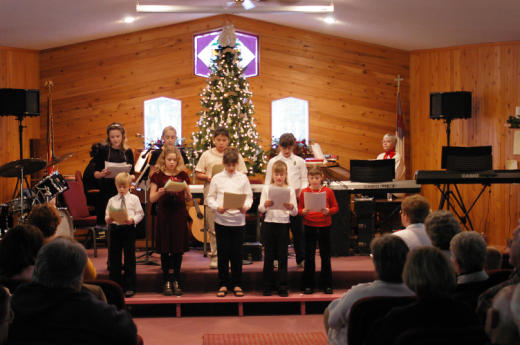 After much practice and hard work, the 35+ members of the Community Choir delivered two stunning performances of their Christmas Cantata on a Saturday and Sunday in early December. Beginning with Christmas songs by the 10-member children's choir, which was accompanied by Judy Meister on the piano and Laraine Dawson on the organ and featured a Signé Thomas piano solo, the concert moved to instrumentals by Evie Folkening (substituting for Debbie Robert at the School), Joe Moore (who had to wear his boutonniere on his right to accommodate his violin), and Judy Meister before unleashing the powerful composite sound of the Choir. Under the astute direction of Kathy Speck this group of voices blended and harmonized to present thrilling renditions of old and new favorites. With musical support from Mike and Rich Scripps, Marianne Weaver, Bob Hoogendorn, and Melissa Bailey contributed outstanding solos, although any of the other members of the Choir might have been selected to take the center podium with equally impressive results–they were all that good. When the program had run its course–breezing through perhaps fifteen numbers, the audience was too enthralled to let the Choir leave until they had performed at least one more song. When all was said and done, the most common comment heard as the privileged guests filed out was, "It can't get any better than this!" One more reason why we're so lucky to be here.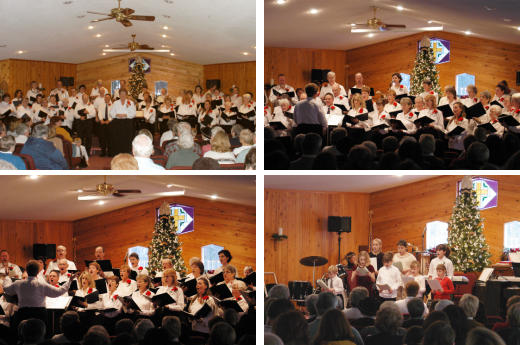 The performance was dedicated to two recent members of the Choir who were not present, Mel and Judy Bellamy. Perhaps the reason this was such a moving performance was that every member of the cast was doing their best to reach out to them with their music. If they were watching, we know they would have been proud.
---
The Real Beacon:
---
Search the Beaver Beacon Web Site & Archive: