Local Couple enjoys Dinner with Dick Cheney.
In early October Bill and Eula Thomas, newly appointed members of Michigan's Business Advisory and proprietors of the Emerald Isle Hotel, journeyed to Washington for the Republican Entrepreneur's Convention. They met with Congressional leaders and other successful entrepreneurs from around the country to support the pro-business agenda of President Bush and the Republican House Majority.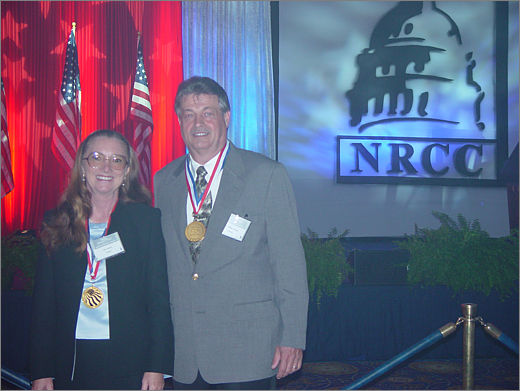 The Thomases had been nominated by the House Majority Whip Tom DeLay because of their very successful pre-Island medical staffing business. This had been founded by Eula in 1989, after 14 years experience in staffing and Nursing Administration. By the fall of 1990 she recruited her husband Bill to come aboard as CEO. They gained national recognition in 1994 for their unique system of recruiting and screening the most experienced personnel to fill strategic positions in medical centers and hospitals across the South. By 1998 the company had expanded its services to include home health, plus had franchised offices throughout the northeast. The Thomases sold their corporate offices in 1998, staying aboard as business consultants, with the goal of going public with the new company. This was achieved in 4 years, with the initial public offering taking place in April of 2002. The company is currently the largest hospital staffer in the United States, with over 26,000 medical employees working out of 150 offices and doing over three hundred and fifty million in business. "For both of us to receive a National Entrepreneur Award is an honor we won't soon forget," Eula said at the convention, which was attended by over a thousand successful small business owners and entrepreneurs.
The reception began with each of the invitees asked to state their ideas for what this country needs. Their suggestions were recorded on video tape. The organizers began the laborious process of editing the hundreds of responses to cook it down to a few hours, which would then be shown to the President and his staff. Eula focused on the difficulties facing small businesses, especially in providing health care to employees. At present the tax code favors large corporations while the self-employed and those working for small businesses simply can't afford medical insurance in far too many cases. Bill echoed her concern, adding that large corporations' ability to play off state against state allowed them to obtain tax abatements to which small businesses had no access. Worse, this often results in taxes increasing for small businesses to provide the lost tax revenue.
On Tuesday a number of round table discussions were offered throughout the day on various political issues. Bill and Eula participated in all the health care and business-related discussions, including a talk by the first female head of the SBA. Her story struck familiar ground when she shared that she had started her business in her garage, and learned quickly that you did whatever was required, no matter how difficult. "Everyone knows that to succeed in business," she told them, "you 'fake it until you make it.' You work until you drop, day after day. After 25 years of gruel and grind, you just might wake up one day as an overnight success."
Tuesday's highlight was when Bill and Eula each received the Gold Medal Business Award from Newt Gingrich to honor their entrepreneurial spirit and business success. Mr. Gingrich told them that, like them, he'd had plenty of moments in his business life when things were so tough that he wondered if this was the day when he'd lose the fight and go broke; this sentiment struck a familiar chord with many of the now-successful attendees.
That evening the group divided into 20-person parties, which were driven to a variety of restaurants for dinner. Two Congressmen from Indiana (Ryan and Shimkus) were at Bill and Eula's table.
Wednesday was packed with informative speeches on various issues facing America. The event was capped off with "A Washington Salute" to the retiring members of Congress, including majority leader Dick Armey and Republican Conference Chair J. C. Watts. The Salute, whose keynote speaker was Dick Cheney, was by invitation only, and was a wonderful and deserving tribute. There was supposed to be a cocktail hour, but the security was intense (with an in-place metal detector, invitation double-checks, a second hand-held detector, and body and shoe searches) and few had time for a drink. In the ballroom Tom Delay sought out Eula and Bill, and a crowd quickly formed at their table. A man, possibly middle-Eastern, appeared with neither his event badge nor his dinner invitation; even the waiters wore event badges. A security team immediately appeared and asked to see his credentials. When he could not present them, he was picked up and rushed out, creating a hub-bub that rippled through the large room.
When Dick Cheney appeared on stage, his security had been beefed up and he was escorted by a secret service squad. Our Vice-president gave an excellent unhurried speech. He urged his audience to return home and work to get people out to vote. He mentioned that 70 unsigned bills were languishing on Tom Daschle's desk. He said it was important to give the Office of Homeland Security the power it needed to do its job, and said the war on terror was not confined to Afghanistan, a point underscored by events in Bali, North Korea, and the Philippines in the following few days. He lauded Colin Powell, and cited instances of Saddam's repeated lying. After hearing speeches by J.C. Watts, Dick Armey, and Tom Davis, the rest of the evening was spent socializing and listening to a live band until 1:00 am. The event had a warm and friendly atmosphere. All the Congressmen stayed for photo opportunities. Before the evening was over, Dick Armey climbed on stage and sang a few songs, including God Bless Texas.
The Thomases were not able to procure any pork for Beaver Island, no new dam or superhighway. But they returned with a heightened appreciation for the accessibility of our leaders, for their willingness to listen to different ideas and opinions, and to impart up-to-the-minute information about a variety of topics. Talk to them when you see them on the street; they'd be glad to share their insights about how our
government works.
The Real Beacon:
---
Search the Beaver Beacon Web Site & Archive: