A Bite of Beaver.
The newest culinary treat to hit Beaver Island featured delicious foodstuffs from some of the Islands' best cooks. It was quite a success, drawing almost 300 people.
Upon entering to the sounds of L.D. Ryan's sax, visitors were assailed by the scents of everything from cupcakes to chocolate to puff pastries. All 72 pieces of Keith Pintler's Chicago Pizza sold out quickly, as did the shrimp and escargot. The chicken satay was next to disappear. Deborah Harwood, the chairperson of this event, did a marvelous job. Besides the gourmet tidbits, local artist Eric Heline was on hand with his jewelry.
This was quite a victory for Beaver Island. It made money, and satisfied everyone who took part. It was one more step in broadening the season. And drew a surprising number of off-Islanders. And it pointed out that acting on suggestions that are based on what works elsewhere can lead to a desirable outcome.
Next year's program will be better advertised–and there'll be more food!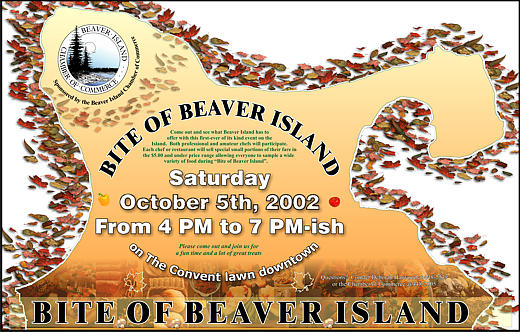 Thank You Bite of Beaver Island Participants
Dear Bite of Beaver Island Participants,

Thank you, thank you, thank you! Our first Bite of Beaver Island was a great success. This island is chock full of culinary talent! Everyone did an outstanding job and the food was marvelous. I think most of the tables sold out of their food. That seems like a good indication of how popular this event could be.

Thank you to the people who attended the event and ate 'til they were stuffed. Your response was great (Did you know that a couple from Traverse City came to the island- they had never been here before- just for this event?).

And thank you especially to Steve West at the Chamber office. He really helped get this thing going.

We are planning a bigger Bite of Beaver Island for next year. We'll keep you posted about the events.

–Deborah Harwood

The Real Beacon:
---
Search the Beaver Beacon Web Site & Archive: