Waugoshance Point Lighthouse
A lone ladder marks the way up the slap-rock crib, but the chimney still stands amidst the burned-out structure. During practice only a single bomb lit the fire, leaving the lower steel intact. We circled while noting the great slabs of rock forming the bottom of the shallows. Against the point of the mainland, with the bottom seeming so near—and given its history and fate—our imagination couldn't help being captured by Waugoshance. Hopefully plans for restoration will proceed; it would be a shame to let this piece of history crumble.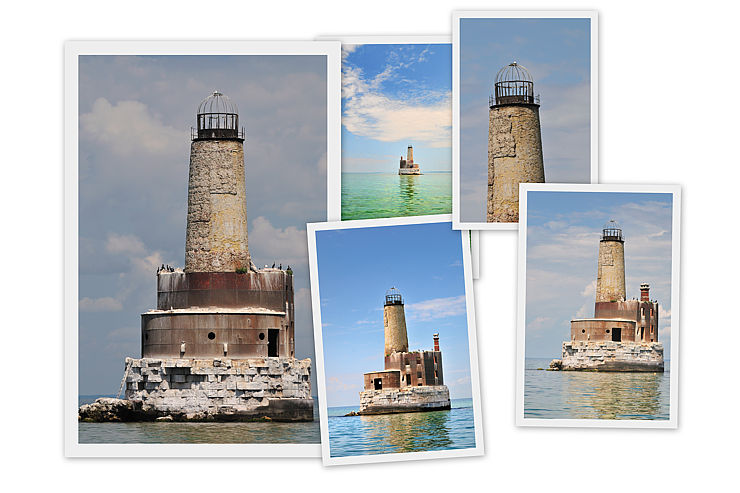 Approaching Hog Island on the way back, we didn't have the heart to tell Dr. Powers that the cormorants had also assembled for a confab, but we did blow the horn several times to break it up. We spotted a few nice fish off Hog near a huge Volkswagen-bus-sized boulder. Then Beaver slowly changed from the band on the horizon to the Island home I know.
The 5:30 ferry was already docked but her wake still surged toward us. We couldn't help but reflect on a remarkable two-day journey, on why we have come here in the first place. It's a good thing to make the time to just be out on the lake at least once a summer.
At first I only set off to experience the trip itself, but along the way this group's lighthouse quest got under my skin and I conjured up a romantic vision of what life had been like at each of these stations when they were at the forefront during the nineteenth century, when Beaver was at the center of this great water highway system, and technology was so visceral and tactile in the dawning industrial age.
The focused charter with this group of lighthouse questers provided a memorable cornerstone to another great Island summer, a welcome reminder of what being here is all about.
Lighthouses in and around the Beaver Island Archipelago