Skillagalee Island Lighthouse
As we skirted the harbor buoy, Chuck Prass (from Colfax Indiana) pointed out the sequencing of buoy lights and our own functional Whiskey Point, which we mostly take for granted. Now its reassuring red glimmered over the water and our wake as we made our way to Jon's dock.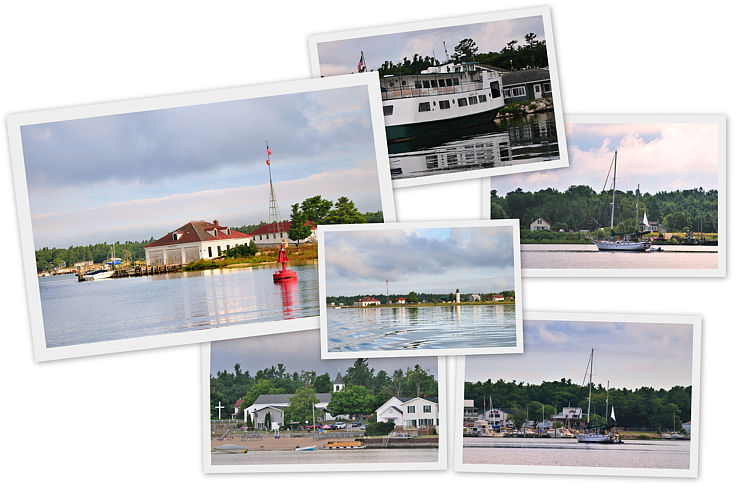 After such a long trip the day before, we got a reprieve on the morning of the 13th, not leaving the harbor until 9:29, passing a St. James more familiar to me on the way out. As we headed for Ile Aux Galets, the ferry cruised up the East Side in the distance. This too was a supremely calm day as we needled our way north of a storm front, the clouds providing a dramatic backdrop.
While Jon tested radio range, the group joked about technology and communication, and a teacher in the group, (Mac, from Pennsylvania, the home state of the brig from the previous day) talked about how students today learn how to set up technology instead of repetitively hammering home basic fundamentals first-hand as they did in years past. The good-spirited discussion rang true as we journeyed out to rediscover the outposts of this navigation network from the era when signals were visible and audible and so directly connected with the men.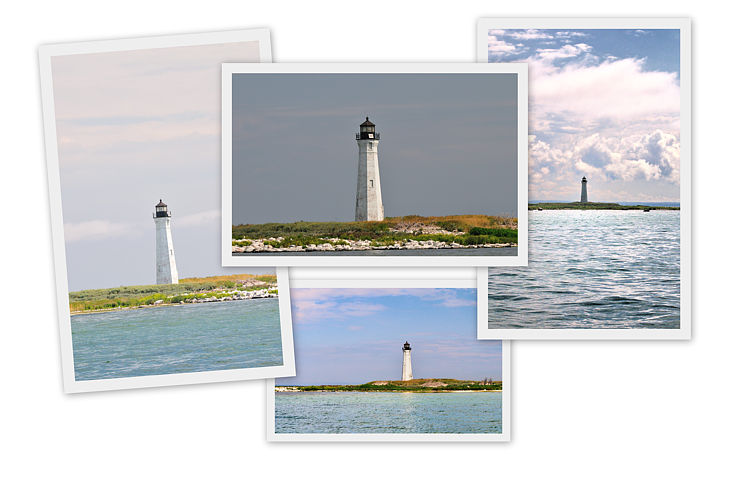 As Skillagalee appeared on the horizon, a number of us made our way to the bow to give all the lenses a clear field of view. The keeper's house, oil house, and fog station had been removed by a coast guard crew in 1943, and the light tower now stands alone in the center of this treeless island. The light towering vertically on the horizontal white beach of this flat pebble island provided a striking counterpoint. It must have been dramatic to be stationed on the only spot above the plane of breaking waves.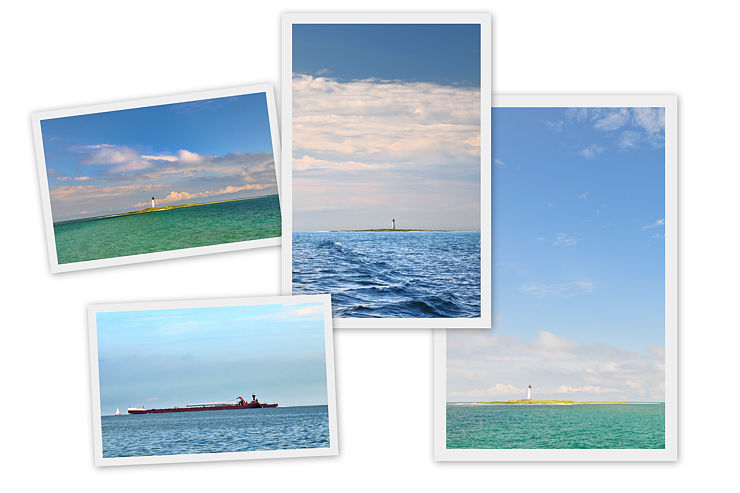 Fearing the odor of the birds who make their home here, the group elected not to bring the dinghy on this trip, though I regretted not having a chance to set foot on Skillagalee to add that notch to my belt. Two white swans made their way calmly along the shore, frequent tourists to this wonderful island who are unable to tell us about it as they swim our coasts, a friendlier sight than the much-hated black cormorants of the day before.

Grays Reef Lighthouse