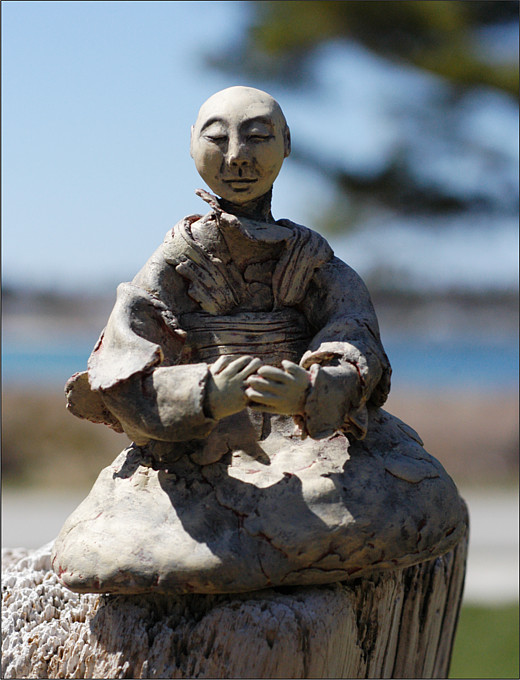 For the past ten years, Livingstone Studio, Sue Thomson's gallery, has taken up an increasing amount of space at Karl Felix's old Rustic Villa near Whiskey Point. Many of its customers come back year after year–some even organize special Beaver Island shopping trips before or early in the season. Yet not every person strolling through realizes that some of the most exquisite pieces among work from over thirty artists and craftspeople were done by Sue herself.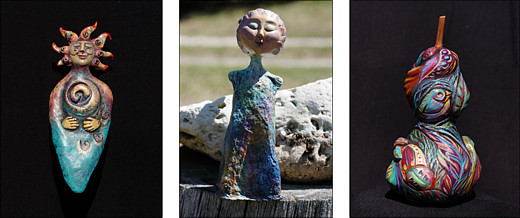 Sue knew she was destined to be an artist from kindergarten on. She has honed her talent throughout her life, taking college courses on occasion but not wanting to lock herself into a rigorously narrow field by getting a degree. With a wonderful sense of color and shape, she can create both balance and surprise in a wide variety of media. She takes the intuitive approach: instead of setting out to embed a particular idea, she prefers to start work, let the piece take shape, and then try to pry out the secret of what it wants to be. Sometimes the work pulls her in so deeply, and the act of creation becomes so intense, that she isn't sure when to stop–or doesn't want to.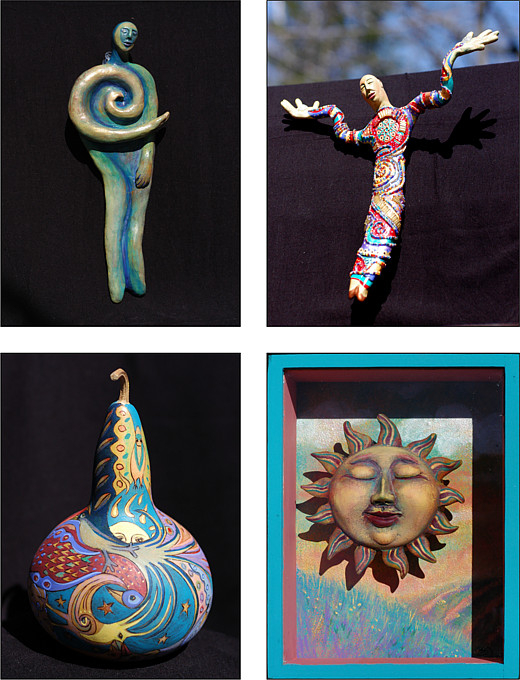 "Bringing something to life is the best way I know of to relax," she says. As gallery manager as well as artist, she has to continuously shift to the opposite mode. "The transition used to tear me apart, but I finally learned not to fight it, to just do what was needed."
It's been said that her work is like a stream of consciousness. "The whole reason for doing this," she said. "Is to see someone's face light up." This is the criteria she uses for selecting other artists to represent as well. "I look for things that delight people and make them feel good. I suppose some of the art from the dark side is legitimate, but that's not what I want to show." Almost all of the 1,500 pieces she's sold (at prices ranging from a dollar to several hundred) exemplify this view.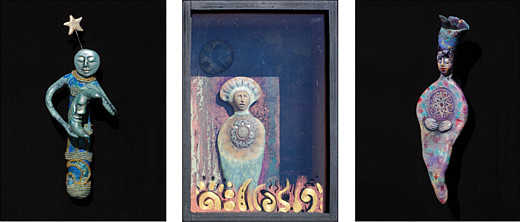 At times, life was very tough here, but Mary Scholl took her under her wing early on, mentoring her in the art of survival. Year after year her confidence has grown. A few years ago she expanded into a second cabin (plus she lives in a third, so she's always there), which holds many decorative items for the home.
This year she's beginning to attract some national interest. One of her sculptures is featured this month in Artella, for example. She truly enjoys the relationships she's formed through her gallery, with both customers and artists. To facilitate a greater interaction between these groups she's starting a "Meet the Artist" day: each Saturday afternoon in July. She hopes those who come for this will be pleased by an expansion of their knowledge and joy.
---
The Real Beacon:
---
Search the Beaver Beacon Web Site & Archive: