Roasting Jerry
On Saturday, May 17th, some of Jerry LaFreniere's many friends packed the Holy Cross Parish Hall to roast one of Beaver Island's most well-liked sons. The decorations reflected Jerry's years as the engineer for the Beaver Island Boat Company and his long relationship with the ferry Beaver Islander, which he nursed along for thousands of miles. The walls were decked with life rings and anchors, and paper sea gulls flew above the stage, looking for an appropriate place to leave their bread crumbs. Tables held "sick bags" filled with popcorn. Interspersed were photos, in all of which he was beaming his signal-light smile, and the wonderful caricatures drawn by Island artist Kelly Duhamel depicting the events of Jerry's life.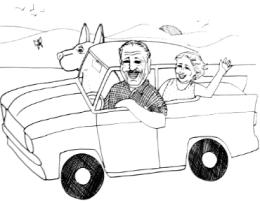 Each attendee received a scroll with the evening events, part of which read:
"Cead Mile Failté - One hundred thousand welcomes.
"Tonight as we journey through a sea of memories - some stiff waters, many high tides - be prepared to experience rolling waves of laughter and whitecaps of delight."
The cruise directors for the evening were Jayne Bailey and Lisa Gillespie, who kept things moving – although Jerry's life provided plenty of material to work with, as did the many speakers. A wonderful job was done by all.
Thanks, Jerry, for being such a great sport!

---
The Real Beacon:
---
Search the Beaver Beacon Web Site & Archive: