Graduation Time
On June 7th one of the Beaver Island Community School's largest graduating classes in at least fifty years-11-will emerge from the trenches and charge out into the rest of their lives. As one might expect, they have a variety of plans.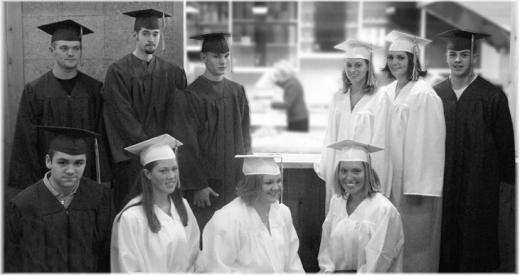 Joanie Adams, daughter of Dave and Kathy Adams, is planning on attending Northwestern College in Traverse City. Joanie is planning to obtain her associates degree in nursing.
Megan Heller, daughter of Karl and Sue Heller, will be attending the University of Michigan. Megan is planning to study journalism and mass communications there.
Adam Martin, son of Bud and Colleen Martin, plans to attend Grand Rapids Community College after he does some traveling.
Colleen McDonough, daughter of Kevin and Linda McDonough, will be attending Michigan State University in East Lansing.
Joe McDonough, son of Bill and Tammy McDonough, will be studying business at Ferris State University in the fall.
Hilary Palmer, daughter of Edward and Mary Palmer, plans on traveling after graduation.
Forrest Powers, son of Jeff and Marie Powers, will be attending Hillsdale College, in Hillsdale, Michigan where he will focus on Pre-medicine.
Joshua Runberg, son of John and Carol Runberg, plans on attending Michigan Career and Technical Institute in Plainwell, Michigan to study Culinary Arts.
Kristen Russell, daughter of Mike and Bev Russell, will be a student at Kellogg Community College in Battle Creek, Michigan in the nursing program there.
Joe Timsak, son of Joe and Sheri Timsak, plans on attending Northwestern Michigan University to study automotive mechanics.
Grant West, son of Steve and Elaine West, plans on traveling after graduation.

---
The Real Beacon:
---
Search the Beaver Beacon Web Site & Archive: