The Twinning Ceremony
The schedule of events begins Thursday, March 6th, 2003:
The Beaver Islanders' main party will arrive at Dublin Airport (some have gone ahead.) A chartered bus will be there to convey them to a Hotel in Donegal Town, where they will stay overnight.
On Friday they'll take the noon ferry to our twin, Óilean Árainn Mhór. The Arranmore Pipe Band, members of the Local Community, and the Fáilte Committee will meet them and convey them to their accommodations. At 9:00 p.m. a buffet and entertainment will take place in the Pier Bar & lounge, featuring old time, céilí, and modern dancing. There will be a presentation by historian Charlie Ó Hara on the Arranmore / Beaver Island connection.
At 1:00 on Saturday the memorial at Loch and Cowanaigh will be unveiled by two youngsters from each community, followed by the presentation of a framed document by a representative of the Donegal County Council to the leaders of the Beaver Island Community Committee, who will deliver short speeches. This will be followed by the presentation of a traditional gift by the chairman of An Cóiste Fáilte for the Beaver Island Heritage Center and a thanking of the sponsors. In the afternoon a bus will tour town lands where Arranmore Islanders resided prior to evictions from their small holdings.
Church service will be held in Seipeál Naomh Croine.
At 9.30 p.m. céilí and sandwiches will be offered in Tomas Phil Bans Pub. The Americans will be sufficiently cautioned beforehand.
Departure is scheduled for Sunday on the 12.30 Ferry. The Community will be on the pier to say Slán Abhaile.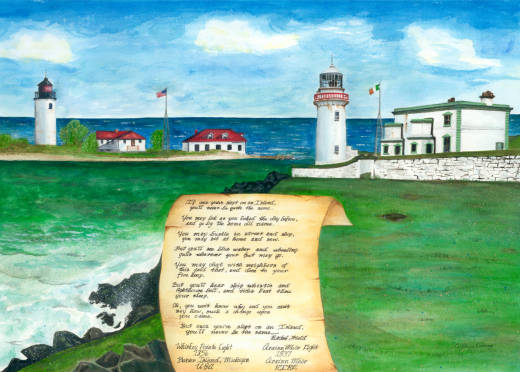 This beautiful watercolor (above) by Cindy Gillespie will be one of the gifts presented by the Beaver Island contingent to Arranmore.
Note: Rich Gillespie's Web Site about the Arranmore Twinning Ceremone can be found at www.beaverislandrealty.com/Ireland
---
The Real Beacon:
---
Search the Beaver Beacon Web Site & Archive: