Lighthouse School's "Haunted House" A Great Success
Four years ago Doug Marvin (site manager of the Lighthouse School) and the students decided to create a Haunted House to entertain Islanders on Halloween. The first year they had only thirty or so people make the trip down to the South End. But they did it again and again, and every year things got more creative and elaborate. This year, due to the imagination and hard work of the students and staff, the best ever Haunted House scared the pants off everyone who visited.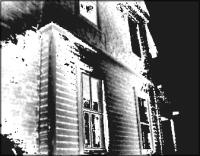 The eerie tone began on the descent down the long staircase into darkness. Cold, clammy hands were felt on shoulders as strobe lights and acid-rock music imparted the feeling of stepping into another dimension. The first display revealed a young woman hanging from the open door of a clothes dryer, bloody and mangled. Moving forward, sights of a gruesome knife murder and a liposuction surgery gone wrong kept the horror building. Young men covered in blood danced demonically to the heavy beat. It truly gave the visitors a Blair Witch Project feel as they made their way through the displays. To the relief of all, caramel apples and cider were served at the end to help calm tense nerves by a hairy-chested man in a tutu and a women dressed as Norman Bates' mother.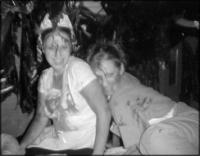 Several people commented that it was the scariest Haunted House they had ever seen. About 115 people came down, and more than $130 was collected. This year's Haunted House has been the most successful so far. The students typically donate the money back to the community by way of a contribution to the Medical Center or some other Island charity. The Lighthouse staff and students deserve a big round of applause for providing the opportunity for old and young alike to be truly terrified.
–Jane Dwyer
The Real Beacon:
---
Search the Beaver Beacon Web Site & Archive: