On or around September 3rd a daunting and heroic 7-day journey will begin with the embarkation of Ken Bruland in a sea kayak for the Hiawatha Paddle Festival at Cedar Campus on some small islands just short of Lake Huron's Whitefish Point eighty-five miles away.
Ken has to get there to teach at the annual kayak symposium, but has chosen to travel by sea in an attempt to raise $5,000 for the Beaver Island Food Pantry–despite the dangers.
He'll load up his 55# boat with 65# of gear—tent, sleeping bag, and cooking supplies for his six to eight nights of camping. This gear will cut his top speed by 35%, but there aren't any convenience stores along the way.
He'll push off at noon to spend the first night on the east side of Hog Island. After catching a few winks of sleep, he'll set off from Hog Island before dawn to take advantage of the less-treacherous seas, paddling alone in the still twilight heading out of our archipelago for Waugoshance Point, at 15 miles the single longest hop of the trip.
He'll dodge freighters, pass lighthouses, and sit out any bad storms on each leg. After Waugoshance he hopes to make Cecil. The next day he'll glide under the Mighty Mack and make a quick sprint across the mile-wide ship channel – hopefully on Labor Day, praying the thousands of walkers up above don't throw any half-empty water bottles over the rail. If he's lucky he'll spend a quiet night on St. Martin's Island west of Hessel before a relatively relaxing tour of the beautiful Les Cheneaux Islands.
To reduce the risk he's got to buy additional safety equipment, so he needs to pick up a handful of sponsors to underwrite the long trip's cost. He hopes to raise around $1,000–and immortalize his supporters in the book he hopes will follow.
But everyone will be able to support his mission by donating to the Beaver Island Food Pantry while he paddles away—either by pledging so much per day or per mile (say, a dollar, or half-dollar) or simply contributing to the special donation jars to be set up during the venture at McDonough's Market, The Station, and the Community Center. Or by writing a check to the "Beaver Island Christian Church / Food Pantry" in support of his expedition - "paddle for food."
Before he leaves he'll be at the Community Center on August 30 from 1:00 to 4:00 to discuss his plans, answer questions, meet with potential sponsors, and hopefully drum up some pledges for the Food Pantry. When ("don't you dare say if") he returns and digests the experience, he'll present a talk in late September, at the Community Center again, drawing on his photos and shipboard notes.
This is the kind of challenge that can be picked up by Hollywood and turned into a George Clooney movie. If this happens (buoyed by Michigan's new thrust for filmmaking dollars), Ken just hopes there's nothing at all in his story that even suggests calling it The Perfect Storm.
Ken Bruland owns and operates Inland Seas School of Kayaking on Beaver Island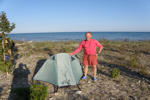 The Journey Has Begun! Ken is off on his solo-kayak trip to the mainland. Photograph of Ken on Hog Island from Joe Moore - follow Ken's kayak journey on Beaver Island News on the 'Net by clicking the photograph above.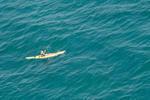 Waugoshance! A photograph of Ken heading for Waugoshance point by Frank Solle and thanks to an Island Airways Flyover. Follow Ken's kayak journey on Beaver Island News on the 'Net by clicking the photograph above. And please consider donating to the Food Pantry / Paddle for Food so Ken's long paddle fulfills the hopes to support this good cause.